Your Business. Your Fleet. One-of-a-Kind.
Acquiring a state-of-the-art fleet with custom solutions from Rush Truck Leasing gives companies the flexibility they don't always find through an ownership approach.
Lease your fleet and save capital resources to invest in your business.
Simplify management of your fleet with a leasing strategy.
Access the latest vehicle technology and expertise.
Get a quality truck custom-built to your specifications.
Have an array of indispensable support services at your fingertips.
Whether you're interested in a customized full-service lease or custom specifications for a truck that's tailored to your needs, Rush Truck Leasing is your go-to source for custom solutions.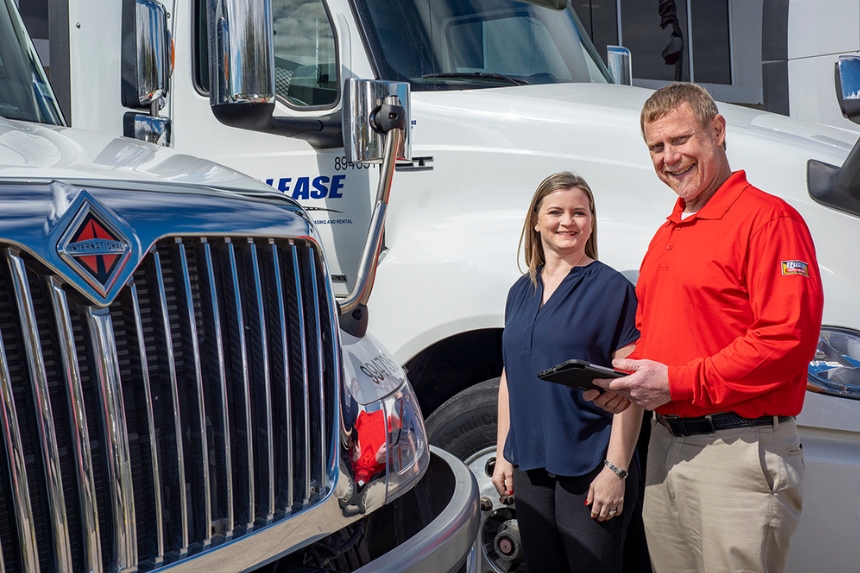 Custom Lease Solutions.
Your Perfect Fit.
A full-service lease from Rush Truck Leasing that's custom-tailored to your specific needs is a smart fleet acquisition method for many businesses today. Choose from our lineup of custom lease features, including:
Operating lease — for more flexibility, simplified accounting and no residual risk.
Capital lease — for leasing customers who need the attributes of asset ownership for tax purposes.
Customized maintenance options that fit your business.
Fleet and compliance services to handle legal and regulatory reporting.
Telematics services and ELDs (electronic logging devices) for efficient fleet tracking and efficient remote management.
Vehicle washing program to ensure your fleet represents your brand in the best possible way.
Fuel program that saves money and streamlines your fleet's fuel operations.
Substitute vehicle plan to guard against mechanical breakdowns.
Custom Specifications. Your Truck Your Way.
In addition to our custom lease solutions, Rush Truck Leasing also custom-builds vehicles to your unique specifications, using reliable, quality components designed to increase uptime. Some custom specifications options and benefits may include:
Increasing payload capacity to boost route optimization and reduce the number of vehicles needed.
Maximizing fuel economy for your fleet.
Adding specialty components, such as wet kits, product blowers, drop axles and APUs (auxiliary power units).
Designing vehicles for individual driver work and routes to enhance performance and morale.
Custom specifications from Rush Truck Leasing can turn any vehicle into the perfect equipment to get your job done.
Rush Truck Leasing — your source for custom lease solutions and custom specifications, built just for your business.
Contact Us